Be avalanche smart and know before you go.
Introduction
An avalanche is a mass of snow moving down a slope. In the US, avalanches kill 25-30 people and injure many more each winter.
Some days are dangerous and some days are not … learning about avalanches will help you decide when, where, and how to visit the backcountry.
If you want to ride safely in the back country you need to get the get the gear, check the forecast, and get the training.
---
The Danger Scale
The U.S. and CANADA use a five-category estimation of avalanche danger: Low, Moderate, Considerable, High and Extreme.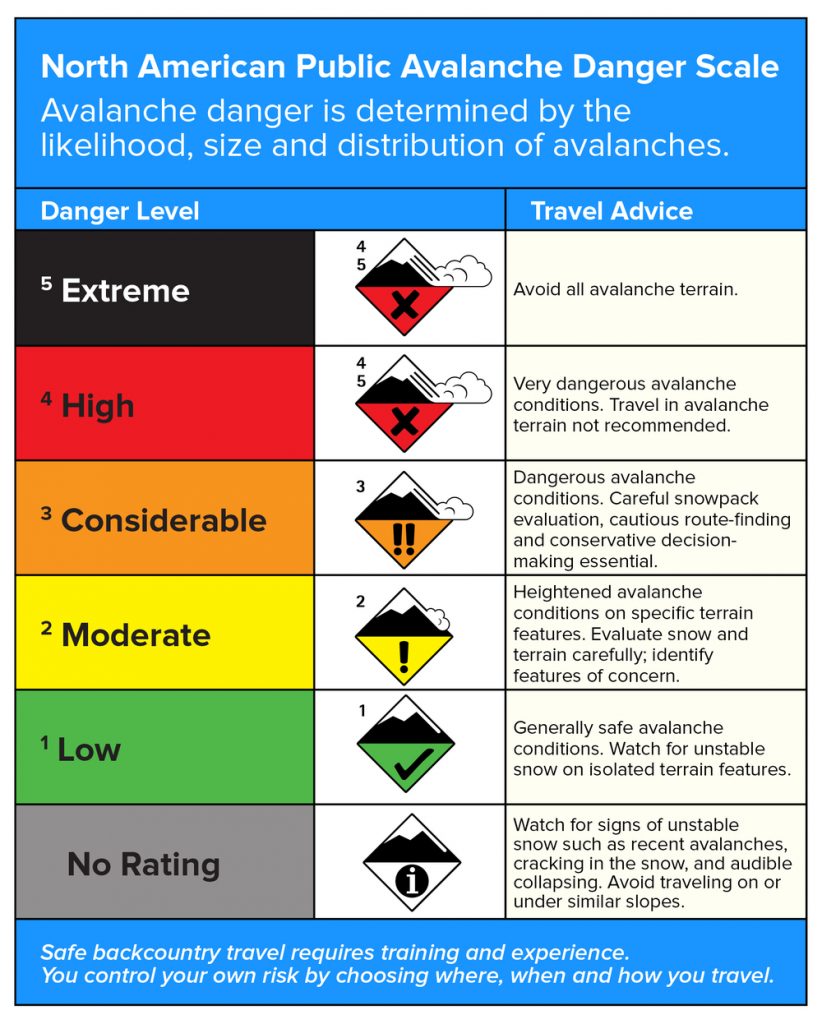 Check the avalanche forecast in the Gunnison Area
---
For Colorado avalanche forecasts by region, click the map below.
---
This video illustrates the ins-and-outs of the North American Avalanche Danger Scale.
---
Resources and Avalanche Information
National Avalanche Center | Colorado Avalanche Information Center | Crested Butte Avalanche Information Center
Submit an Observation to the CAIC or CBAC
Make an avalanche observation to the Colorado Avalanche Information Center.

Make an avalanche observation to the Crested Butte Avalanche Center.

---
Avalanche Education
Avalanche education is a life-long process. Click here to find a course in your area.
Avalanche Problems
The avalanche danger is a broad brushstroke of daily conditions. 'Avalanche Problems' are an extension of the danger scale and use four factors to give a more nuanced description of the days avalanche conditions:
the type of potential avalanche
the location of that avalanche in the terrain
the likelihood of triggering it
the potential size of the avalanche
Click here for definitions of types of Avalanche Problems.
Get the gear and know how to use it
Carry an avalanche transceiver, probe, and shovel
Travel with a partner who also has avalanche equipment
Consider riding with an inflatable avalanche airbag and/or AvaLung